Located near the largest barrier reef in the Caribbean Sea (second largest worldwide after Australia's Great Barrier Reef), Roatan has always been one of the world's most coveted scuba diving destinations, and has recently emerged as a popular cruise stop. Tourists come from all over the world to enjoy the excellent diving and snorkeling opportunities as well as beach life, water sporting activities, deep-sea fishing, and the true old-style Caribbean charm. In recent years with the introduction of two new cruise ship ports, more tourists are coming to the island each day. While snorkeling and diving are as popular as ever, there is still plenty to do outside of these activities.
Transportation is easy to find as taxis literally line the streets of popular towns like Coxen Hole, West End and West Bay. Be aware that it is common practice to bargain with drivers, who do not expect tips. Prices run around $30-40 from the airport to West Bay. Water taxis during daylight link West Bay and West End for around $3 per person one way, and can be flagged down anytime of the day right from the dock at The Pink Orchid.
The US Dollar is generally accepted all over the island, however be aware that you will almost always receive change in Honduran lempiras. Plan accordingly so you spend any lempiras before you leave. The exchange rate is currently around 23.5 lempiras to one dollar.
HELPFUL LINKS
Below are some links that you might find useful to find out more about the island. (click to view)

Maps for West Bay, West End, etc.
Roatan Overview and Activities
(if you stop at frame 9:07, you will see a 2 second pic of the Pink Orchid featured on this video)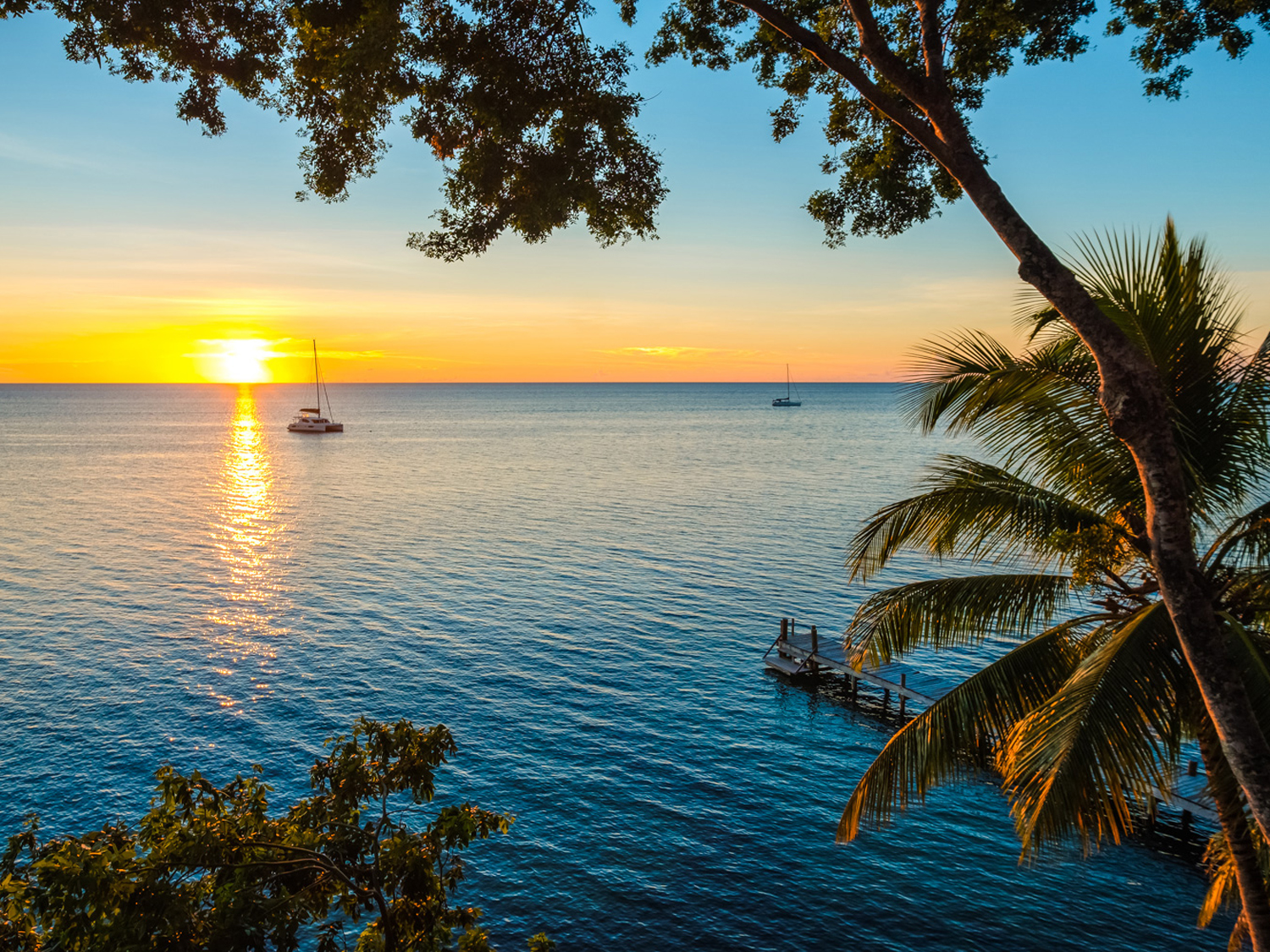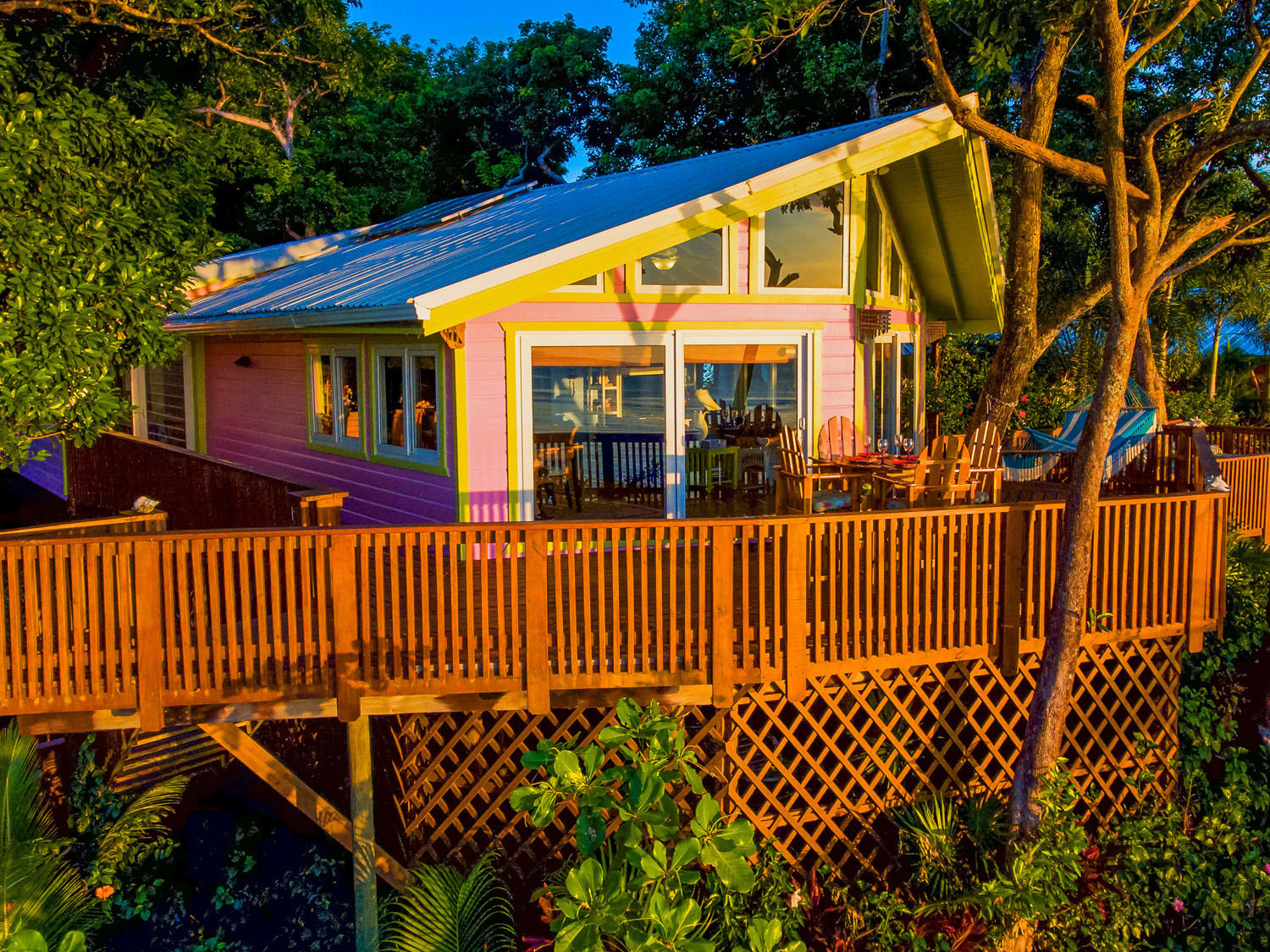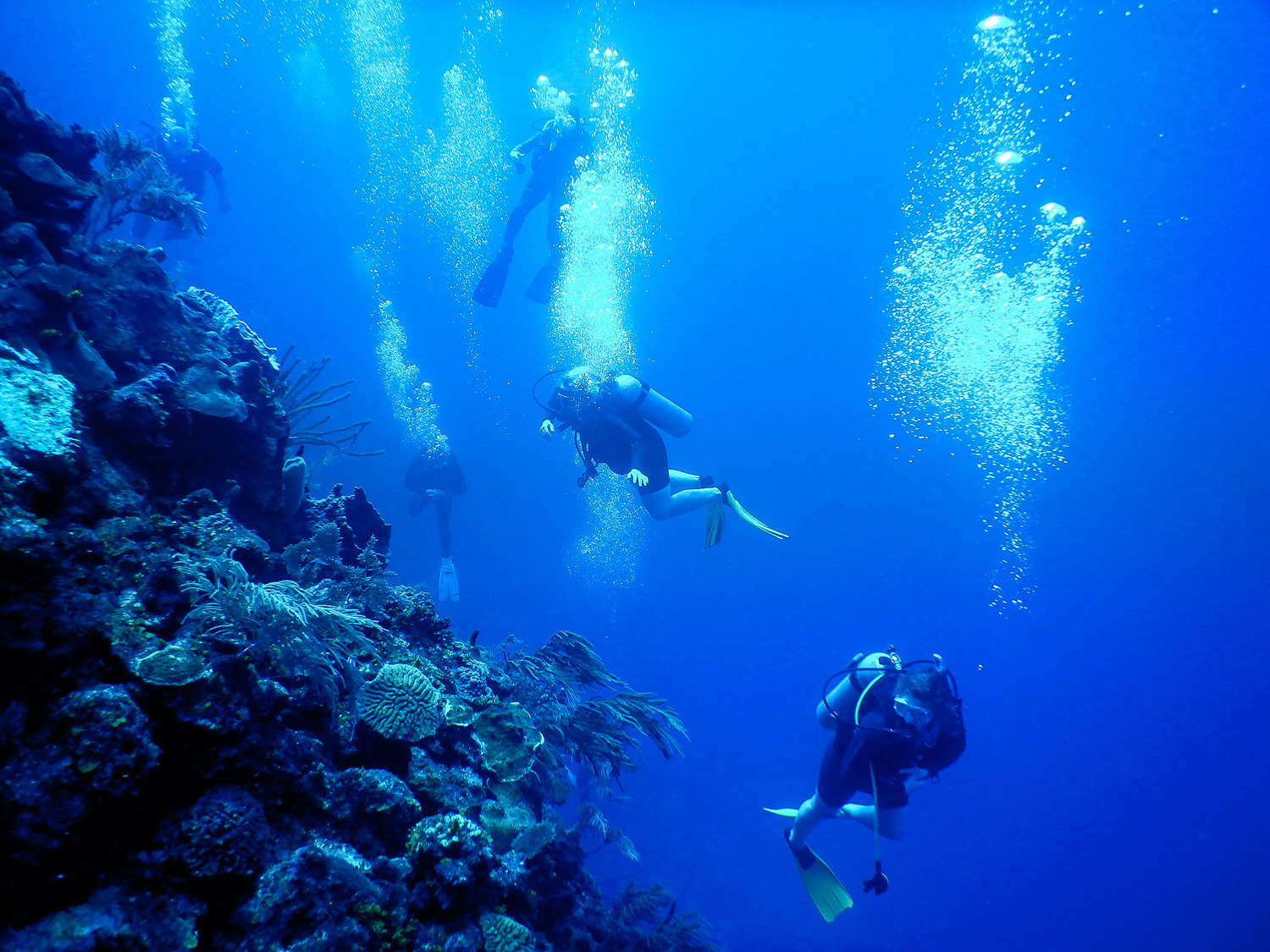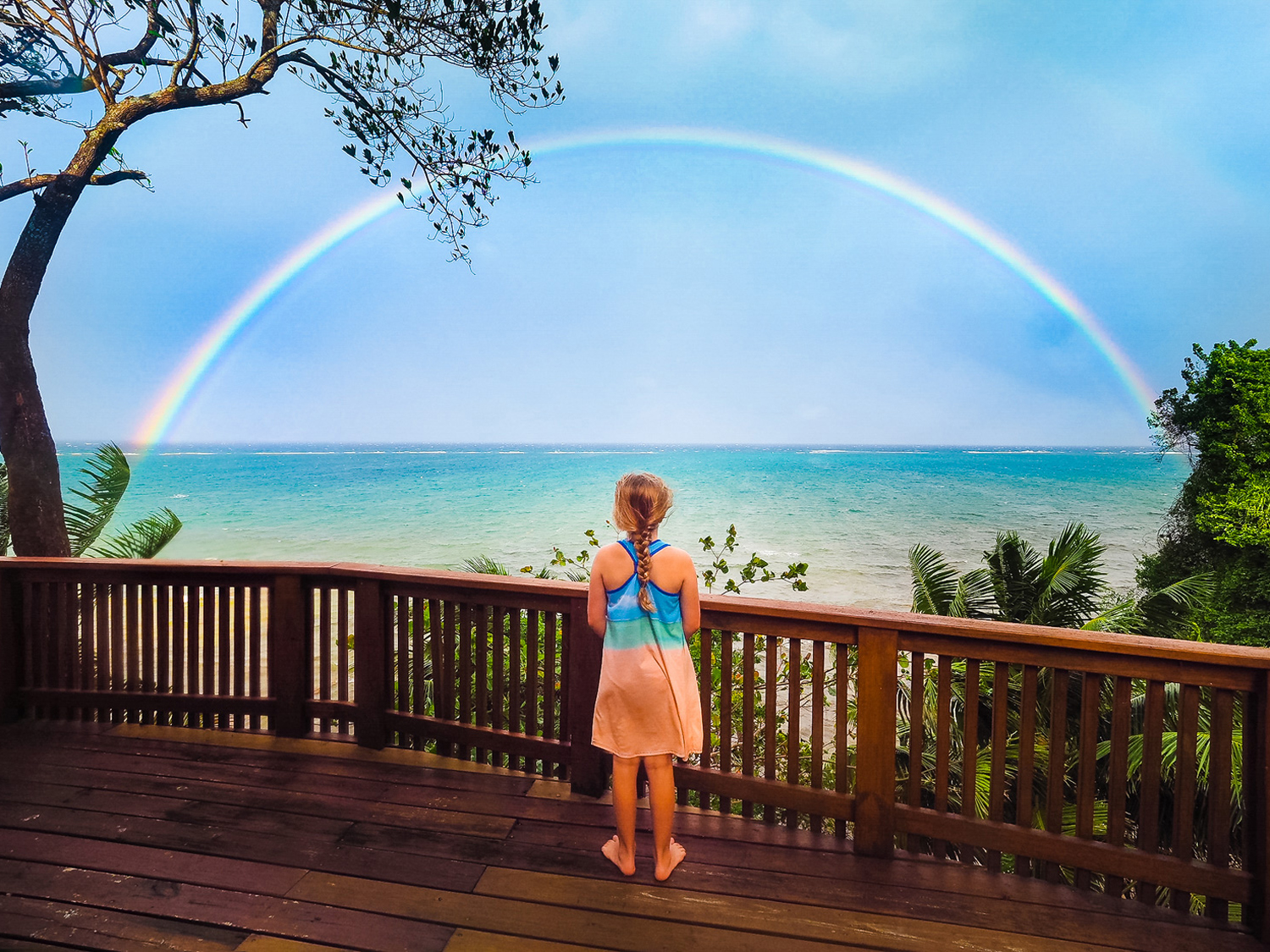 (click the pink links below for additional details)
Diving
We recommend Las Rocas. They will offer you a 10% discount if you tell them you are staying at The Pink Orchid. You can arrange to have them pick you up at our dock, and they offer certification as well. Las Rocas is a smaller dive shop that can give more individual attention. Divemasters are Lara and Alex.
Clearwater Adventures is also very convenient and located right on the Turtle Beach dock, just to the east of the house. You can access Turtle Beach by going down the stairs and over the rocks. For more information visit the website. Contact Divemaster Denisse at 504-9488-8563 or email her at info@roatanclearwater.com to make reservations or join in on planned dives.
Snorkeling
The snorkeling off the beach at Orchid Beach is fantastic, and not used by the public so the corals are intact. Our waters are rocky, with a lot of marine life through and around the rocks. Kayaking out to the reef, anchoring and snorkeling is one of our favorite things to do on Roatan. You can also snorkel at West Bay beach, at the end of the beach past Infinity Bay resort. There are some markers in the water so you will know basically which direction to go. The waters get deeper here, so we recommend snorkeling at both locations. We have amassed a collection of snorkel fins, masks and snorkels, which we keep in a plastic bin in the laundry area – you are welcome to use any of them. Just be sure to rinse them and return when finished.
Swimming & Floating
Orchid and Turtle Beaches are small and quiet, but there will be people walking through on their way between West End and West Bay Beach. Don't forget the floaties in the second bodega, which Juan Carlos can retrieve for you. One of the best places on the island to take a dip is at West Bay Beach. The water is crystal clear, calm with gentle rolling waves and shallow close to shore. The sand bottom is wonderful and you will enjoy people and resort watching from the cool waters, not to mention that many foods and drinks at the various resorts along the beach.
West Bay Beach – One of the most beautiful beaches in the Caribbean! It was recently ranked among the ten most beautiful beaches in the world. Gorgeous crystal clear aquamarine waters, gentle, calm & sandy bottomed swimming, delicious food and drink at the many beach resorts, fabulous snorkeling at the furthest east end of the beach. A great place to visit day or night!
Enjoy the Outdoors



Watch the sunsets! – By FAR our favorite activity – do not miss it! The sun sets every evening between 5:30 & 6:00 PM. Nothing like a glass of wine and hors d'oeuvres to see it down!
Deep Sea fishing – Our preferred fishing captain is Eddie Miller and he is based out of West End. He can be difficult to contact, but his boat is red with a white steel sun shade. He charges about $400 per half day and will pick you up at our dock.
Golf outing at The Black Pearl – Call (504) 2455-5220 EXT. 4412 to reserve a tee time.
Adventure at Frenchys 44 – Catch a ferry to a nearby private island and frolic on their pristine beach, have a drink at their floating bars, snorkel, jet ski, lounge on the beach, and visit the zoo animals onsite, including a jaguar, lion, monkeys, and birds.
Blue Harbor Arboretum – Enjoy the beautiful horticulture of the island in a natural and well-maintained setting covering over 160 eco-friendly acres. View uniquely spectacular tropical displayed gardens, seasonal fruit and nut orchards, the only tropical botanical "Conservatory" with a 12 ft waterfall in the Caribbean and over 70,000 heads of lettuce and herbs in a working hydroponic produce and herb farm. The tour ends with a tasting of the many fruits and edibles they grow onsite. Magic berries were our favorites!
Mahogany Bay & Port of Roatan – Shopping and drinks at the cruise terminals.
Dolphin Encounter – Walk along a white sandy beach and wade waist deep into the gin-clear waters of the Caribbean where trained naturalists will give you a personal introduction to a resident dolphin. The trainer will describe the dolphins' characteristics, anatomy, behaviors, and will give you the opportunity to touch, kiss and play with a member of this friendly family of marine mammals. During the 30-minute encounter portion, you'll have excellent photo opportunities in addition to professional photographs that will be taken of you and your new friends.
Other adventures to consider
Ziplining
Horseback Riding
Its Time To Relax
You deserve a vacation!